Antibacterial Film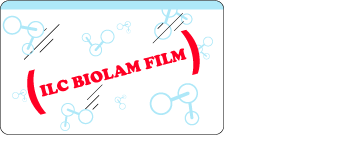 Industry Applications

Medical And Scientific Settings
Resturants
Food Services
Schools
Hospitals
Health Care
Day Care Facilities

Product Applications

Menus
Book Covers
Counter Mats
Reference Charts
Manuals
Anatomical Charts


The antibacterial film ILC carries is called BioLam™
BioLam™ is a patent-pending product of Protect-All Inc. 
It is a film designed to prevent the spread of bacteria, mold, mildew, 
and fungi. This film can be ordered in any size laminated pouch 
or roll film.
Why Worry About Bacteria?

We are surrounded by a multitude of dangerous microscopic 
organisms. One bacterium can reproduce a million times in 
just one hour. Some bacteria can survive on documents for 
months. BioLam™ was specifically developed to effectively 
control against the growth of unwanted micro organisms on 
laminated documents.

Who Needs BioLam™?

Individuals working in medical and scientific settings, 
restaurants and food service, schools or other settings 
are potentially exposed to higher concentrations of bacteria. 
In environments such as these, individuals must use extra 
care to ensure that contamination sources are controlled. 
BioLam™ provides an added line of defense against the 
growth of unwanted bacteria.

What Is An Antimicrobal?

Antimicrobials are products that inhibit the growth and 
reproduction of germs, bacteria, mold and fungi. There are 
many types of anti-microbial products, but BioLam™ is the 
only laminating film that incorporates the natural protection 
of silver as an antimicrobial agent. Silver is effective against 
the broadest range of bacteria.

How Does It Work?

BioLam™ incorporated AgION silver based antimicrobial agent. 
When micro organisms are exposed to the antimicrobial agent, 
the lifecycle processes of the organism are interrupted and the 
organism's reproductive capabilities are affected.

Is BioLam™ Safe?

Yes it is. Studies have shown AgION antimicrobial agent to be 
less toxic than table salt. Silver, the antimicrobial agent that is 
used in BioLam™, has been used for centuries in medical 
applications and to protect various food products from spoilage.

The earliest record of silver use was in 79 AD where it was used 
for long-term water storage. Today, silver is used to control bac-
terial growth in extremely susceptible medical environments 
such as burn wards and on "in body" medical devices.

How Long Does The Protection Last?

Current testing suggests that the active AgION ingredient in 
BioLam™ will not wear off with cleaning or use. In fact, under 
normal conditions, the laminated piece will most likely wear 
out or become outdated before the active antimicrobial 
becomes ineffective.

Is The Antimicrobal Agent Used Regulated And Approved?

Yes. The AgION antimicrobials are EPA registered for a broad 
range of uses, including food and water contact, HVAC, toys 
and tooth-brushes. They are FDA-listed under the FDA food 
contact substance notification for use in all types of food 
contact polymer in 21-CFR, parts 174-186. They are listed on 
USDA list of non-food compounds maintained by NSF for food
processing plants. They are CTFA approved additive on the 
cosmetic, toiletry and fragrance association inventory.

Will BioLam™ Protect Against Illness?

No it will not. AgION antimicrobials are EPA registered as a 
pre-servative and bacteriostatic agent. Under EPA regulation, 
the antimicrobial may be incorporated into BioLam™ for the
sole purposes of protecting the lam-inated article from the 
spread of unwanted bacteria, fungi, mild and mildew. 
BioLam™ reduces the likelihood that the bacteria will be 
transferred to others through frequently handled documents.

Will BioLam™ Contribute To Developing Resistan Bacteria?

No. The BioLam™, with the AgION antimicrobial agent is 
completely inorganic and has not been linked to the adaptive 
resistance seen with organic material like antibiotics.What 
organisms will BioLam™ kill? The EPA prohibits listing specific 
health claims that indicate which microorganisms BioLam™, 
with AgION antimicrobial agent, will kill. AgION antimicrobial film
has been shown to be effective against a broad spectrum of 
many common bacteria typically found in food service, hospitals 
and clinics, dental offices, school and day care facilities.

Is BioLam™ More Expensive Than Standard Laminating Film?

Yes, the added benefits of BioLam™ come at a higher price. 
If maintaining a hygienic environment is important, the added 
cost of BioLam™ far outweighs the additional expense.