Plastic / Vinyl / Laminated

Trade Show Graphics / Venue Posters / Instructional Signs / Yard Signs

ILC manufactures a wide range of Printed Plastic Products
for the Healthcare Industry, from Laminated Signs, Plastic
ID badges, Informational Cards and more. 

ILC's Printed Products can be laminated in many types of 
film including the antibacterial film BioLam™ >

ID CARDS AND BADGES

Identify employees' job classification or departments 
with Plastic Identification Badges and Cards.

Badges can be ordered any size.
Printed one or both sides.
Can be slotted on long or short sides.
Corners rounded for safety.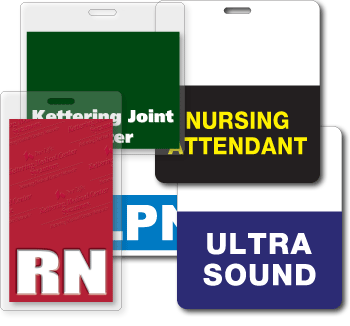 PERSONALIZED ID BADGES

ILC can personalize Plastic Cards and Badges.

Great for Employee IDs, Marketing Material and Patient Cards.
Personalization can be done on one or both sides.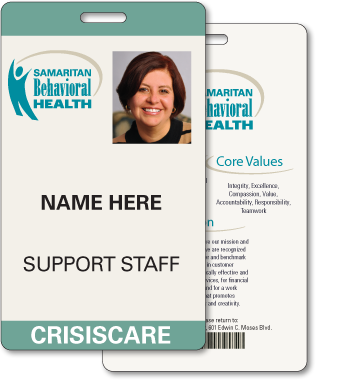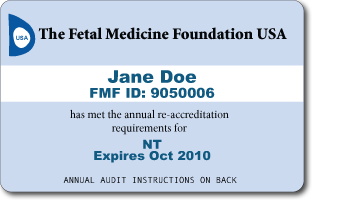 GLOW IN THE DARK ID BADGES

ILC can overprint glow in the dark ink onto our custom
ID Badges for easy identification of hospital personnel 
in dark rooms and at night.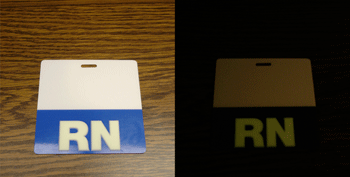 REFERENCE CARDS

Plastic Cards used for quick reference of office/hospital 
procedures, emergency codes, checklists, etc.

Badges may be ordered in any size.
Optional slotting for attachment to other
  badges or lanyards.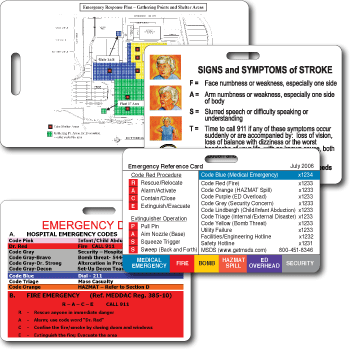 INFORMATIONAL AND
MARKETING CARDS

Eye catching Plastic Marketing Material that is not adversely 
effected by moisture, cleaning or handling.

Can be personalized with Office 
  Information or Intended Recipient's Name.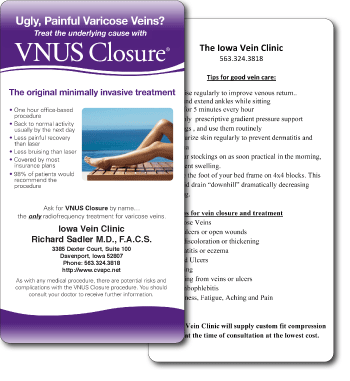 BUSINESS CARDS

Project your company's image and contact information with 
ILC's Plastic Business Cards.

May be laminated with Writable Film for writing in appointment 
  dates, extra contact information, etc.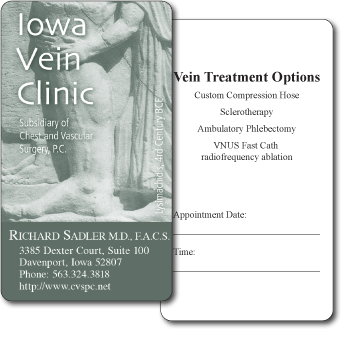 KEY TAGS

ILC manufactures Key Tags for increased marketing exposure.

Many shapes and sizes to choose from.
Can be printed full color one or both sides.
Can be printed with barcodes and/or 
  numbers for reference on back or front.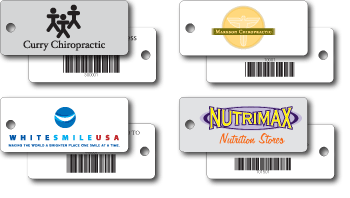 KEY CARD/TAG COMBOS

ILC manufactures Key Card and Key Tags together for the best
marketing value. 

Many combinations to choose from.
Can be printed full color one or both sides.
Can be printed with barcodes and/or numbers 
  for reference on back or front.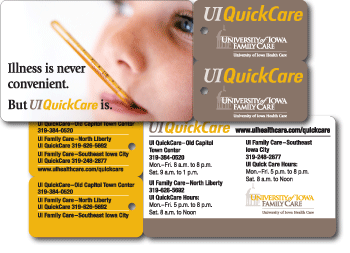 CARD CARRIERS AND
PERFORATED CARDS

Card Carriers and Perforated Cards for mailing 
can be manufactured to size for your applications.

Both Cards and Holders can be printed by ILC.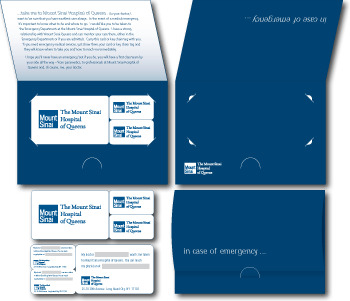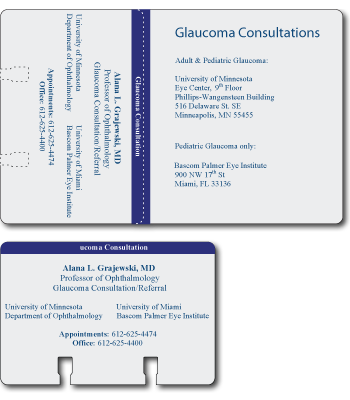 HANG TAGS AND PARKING PASSES

Hang Tags can be used for Door Hangers,
Warning Tags and Parking Passes.

Printed one or both sides to customer specifications.
Optional numbering for control and identification.
Laminted for maximum durability.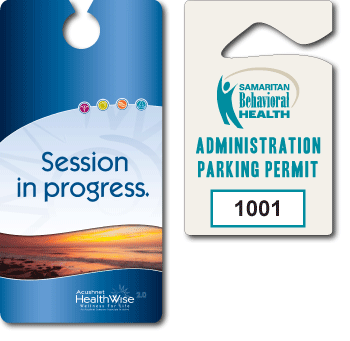 VISITOR PASSES

Use large and brightly colored Visitor's Passes
to denote visitor access privelages.

Any size including 8.5" x 11".
More returns due to size.
Printed front and back in multiple languages.
Color Coded.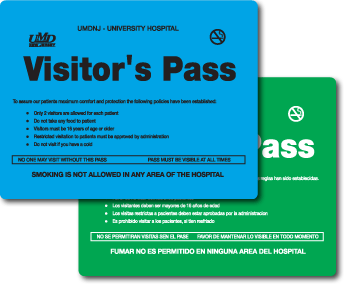 FOLD-OVER CARDS

Use Long Lasting Plastic Fold-Over Cards for quick 
reference material in a compact space.

Writable film on front for easy writing on plastic.
Keep important information confidential when folded.
Credit Card size and thickness when folded.
Slotted to fit current ID Cards.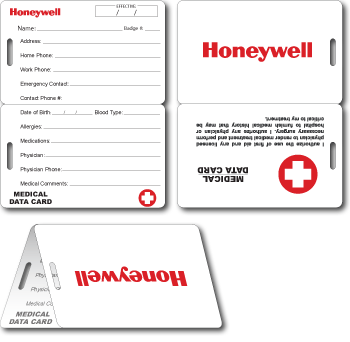 ROLODEX CARDS

Plastic Rolodex Cards can be used for internal quick reference 
or marketing to other organizations.

Can be printed on both sides.
Cards stay clean and crisp after many many uses due to lamination.
Especially helpful during office relocations.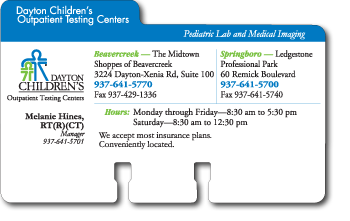 PHONE TEMPLATES

Plastic Phone Templates that are easily removed and cleaned.

Templates are printed to customer specifications and die cut to fit 
  customer's specific phones.
A major cost reduction for customers using paper templates.
Can be laminated with Writable Film. 
Can be laminated with BioLam™ Antibacerial
  Film to protect patients and staff.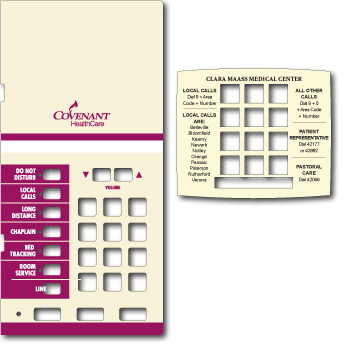 TABLE TENTS

Keep important information in constant view with durable 
Table Tents from ILC.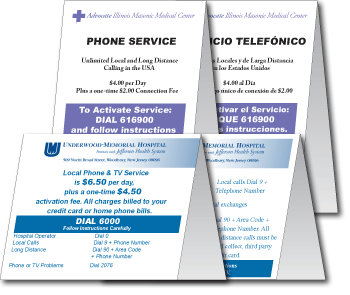 INDEX TAB BOOKLETS

Have large amounts of important information on hand and
easy to find with Index Tab Booklets from ILC.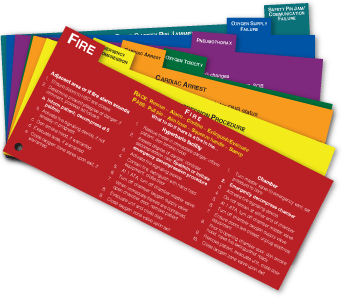 POSTERS, SIGNS AND
TRADE SHOW BOARDS

Advertise locations from afar, make important information 
impossible to avoid or decorate your tradeshow booth in style 
with Laminated Posters, Signs and Trade Show Boards 
manufacturedby ILC.

Materials may be laminated in Matte Film to reduce glare from 
  over head lighting.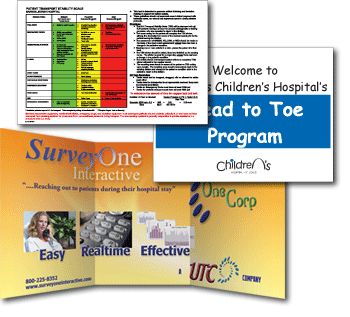 PLACEMATS / COUNTER MATS

ILC manufactures long-life 12"x 16" Plastic Placemats as well
as Plastic Counter Mats sized to fit any counter top 39"x100 ft.
Use Counter Mats to provide customers, clients and patients 
with important information reducing large amounts of 
paper waste.

*The American Kidney Fund use Plastic Counter Mats shown below
as a permanent Patient Consent and Release Form. The patient
reads the mat with large text in English or Spanish then signs on 
an electronic surface placed over the "Signature/Date Line"
cutting printing costs and paper waste.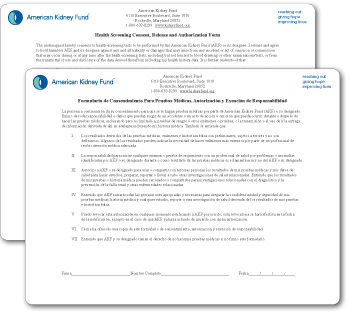 ILC is an industry leader specializing in manufacturing of printed and unprinted plastic products.
© by International Laminating Corporation. All material on this site is copyrighted.
No part of this site may be duplicated without prior written permission from International Laminating Corporation.